Erica felt emotionally and physically exhausted, having tended directly to patients' care needs for the last decade. She still wanted to make a difference and help improve people's lives, but her feet couldn't take it anymore, and wanted a job role that allowed her to build longer term relationships with people.
After a 20-minute chat with one of our Career Consultants, it was obvious that she was lacking clarity and confidence to make the change. Plus, her resume was very clinical and focused or nursing. Excited but nervous, she embarked on our Career Accelerator Program.
After our career coaching session, she said she instantly felt much lighter, like a weight had lifted. Less than a month from that meeting, Erica had signed the contract for a new job! One that's she's really excited about. In total, she applied for 5 jobs and was thrilled to let me know the one she's soon to start is a management role in a company that is all about improving people's lives – providing flexible home care solutions.
With her brand-new resume and LinkedIn profile, she had also gotten a second job offer from a recruiter, which she turned down because she got a bad feeling about it and trusted her gut. She said she was finally starting to see her own worth and became a lot pickier as a result. This is something all job seekers should be inspired by!
After finding out the successful outcome of the interview, she wrote me an email saying "I can't believe how comfortable and confident I felt chatting to them in the interview! Thank you so much for helping me find myself and confidence again."
Not only do her results bring me immense joy, but it's also proof that the Career Accelerator Program really works! So, if you can see some of yourself in Erica, if you feel clearer on what you DON'T want than what you DO want, if you're motivated to do something different but lacking in confidence, and if you want 1-on-1 coaching and a step-by-step program to follow to get fast results, please reach out! Our career consultants are ready to have an obligation-free conversation with you to identify what's holding you back and what you need to reach your career goals.
Click HERE to find a time that suits you. Chat soon!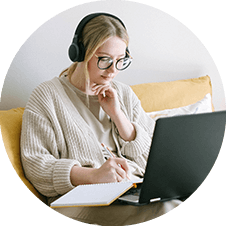 Don't wait for the right opportunity. Create it.
Book in for a free 20-minute career strategy session with one of our consultants, so you can start taking action today!