Nothing is as inspirational as a true story! This time I want to talk to you about "Sarah"…
Sarah contacted us out of a mix of motivation and desperation. She's in her 50s, a single mother of two boys, with bucketloads of humour and a strong desire to tap into her potential, and to provide better for her family. After well over a decade as a support worker, she felt she was done with the ground work and wanted her career to get to the next stage. She had spent her whole life caring for others, both at work and at home, and decided that she needed to do something for herself for a change.
Her resume was a simple listing of previous jobs and qualifications, without any mentioning of what it was that she really wanted to do next. As the reader, I couldn't identify her passion, the width of her skills, her personality nor unique selling point – all essential components of an effective resume. She needed a new, professionally written and designed resume, but after having spoken to us and been informed of our flagship program, the Career Accelerator Program, she realised that's what she needed to get the results she wanted, as fast as she wanted. She wanted the continuous support and guidance from us and hoped that the complete set of success tools she'd get as part of the program would break her pattern of application knockbacks.
She actually didn't have the cash at the time but chose to put it on a credit card. I remember her saying she hoped it would pay itself off soon.
Sarah's greatest strengths lie within her people skills, she's a relationship builder, a service provider and a natural leader. It became clear to me that she was indeed capable of so much more, having the ability to influence, make decisions and solve any problem that came her way. I told her that the program works, but that she must promise me to do her part. The output you get comes from the effort you put in. She promised she would and got to work quickly, chipping away at the 6 modules in the program with great enthusiasm and efficiency, even creating a large note board in nice colours highlighting the things she wanted to remember, including the elevator pitch I helped develop for her. Sarah had goal in sight.
When she got her new and improved resume back, she first thought it seemed "too good", as if she couldn't actually do all the things we had written she could. After having slept on it though, and read through it again, she realised she has a lot more experience than she first believed and that every single thing on that document was actually true. Her self-doubt has just gotten in her way.
I wanted her to start putting the resume to good use, and she had mentioned that there was a company in the aged care industry she would most like to work for, that she had applied for four times previously, for a home care coordinator role. I told her to get in touch again, that she had nothing to lose. Lo and behold, they agreed to an interview, and we did interview coaching in the days prior. Sarah felt nervous, but also well-prepared and excited! Unfortunately, she didn't succeed in getting the job offer, but they said she interviewed very well and that new roles may come up in a few months' time.
A week later, the same company got in touch with Sarah, wanting another chat. Apparently, they now had another role in mind for her…
Fast forward a few days, she had communicated her value to the interview panel, followed by them deciding to offer her a management level job with a 40k payrise – and a company car! This was a dream come true for Sarah! She transitioned into her new role shortly after that and quickly paid off her credit card.
How inspiring isn't Sarah's story? As soon as she could see her own worth, others could too. Other keys to Sarah's success were the accountability that our program offered, the coaching to know how to sell herself and overcome mindblocks – and of course a stellar resume to match the brilliant woman she is!
If you want a free resume review and help to discover where you might be going wrong and how we can get you on track FAST – book in a FREE CALL with one of our career consultants today, and you could also start your own amazing success story, just like Sarah did.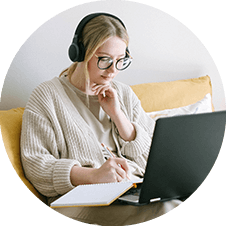 Don't wait for the right opportunity. Create it.
Book in for a free 20-minute career strategy session with one of our consultants, so you can start taking action today!