After my lifelong career helping tens of thousands of people get jobs – and having seen how dramatically people's success rate improves after a professional resume overhaul – I certainly know a thing or two about resumes. There's a lot of art and psychology that goes into what makes a successful resume, more than what could possibly be fitted into a blog post, but there are also some major mistakes people make on their resumes that I want to share with you today.
Have you ever applied for a job you thought you were perfectly suited to, and yet failed to even get an interview? You might have fallen into one or several of the FIVE RESUME TRAPS below.
You've crammed in ALL of your work experiences, no matter how relevant or irrelevant they are to the job you're applying for
Does your nannying experience back in the days really add any value to your resume, if you're going for a sales job? No. The same principle applies to all career changes. Be selective. Emphasise the skills, experience and abilities you'll need to be successful in the role at hand. This also means that you can, and should, remove irrelevant qualifications you took when you had different goals or interests.
You've exposed yourself to ageism
If you're qualified to do a job, there's no reason employers need to know your age. Be wary of the dates you include in your resume, eg. when you finished your degrees, as well as how far back you go in your career history. I often see people giving away their age in their email address as well, or by including a photo – this could potentially expose you to discrimination and although I don't think it's fair that we need to consider these things, I also don't think it's worth the risk.
You haven't addressed career gaps
A person who reads your resume can make up all sorts of stories in their head of why you've got gaps in your resume – make sure you don't let them jump to conclusions if you've got legitimate reasons, whether that is parental responsibilities, travel, relocating etc. You ideally want career gaps to look intentional or at least justifiable.
You've wasted precious space with information that doesn't add value
Your hobbies and interests, icons and graphics, a dozen of referees, your high school degree, your full address… Again, keep your resume to the point and consider what's of the essence. No one will hire you based on the fact that you enjoy reading books or exercising. On the other hand, if your interests are relevant to the role, you can bring that up in your cover letter with your reasoning why.
You've simply put in too much information
Recruiters and hiring managers will rarely read every single word on your resume, they're very busy and want to know if you're a suitable candidate as quickly as possible, so you're doing yourself a massive favour by keeping it short and concise, easy to read and never beyond 3 pages. Do not include the majority of your position description/all your responsibilities, focus on relevant highlight! Remember – the main purpose of a resume is to spark enough interest in you and create a desire to find out more, so you get invited to that interview!
If you're reading this, realising that there are improvements to be made to your primary application success tool, the resume, then please get in touch. We've got the skills, experience and passion to bring out the best in you on paper. We have a team of professional writers across all industries ready to help you get the job you want – and we make sure it's perfect for your needs!
To get started – book in a free 20 minute chat with one of our career consultants!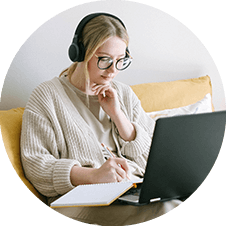 Don't wait for the right opportunity. Create it.
Book in for a free 20-minute career strategy session with one of our consultants, so you can start taking action today!