From time to time, all professionals come across slumps that freeze the progress of their careers. Whether you are a stay-at-home mom who is nervous about returning to work, a person coming back from a long sick leave, a fresh graduate who is unemployed, or simply someone struggling to find their mojo at work, I can completely understand what you are going through. The one thing which I almost always advise all of my clients who are struggling to make positive changes in their careers, is to work on their mindsets.

How you perceive this situation is far more important than your skills, experience, and PR in your industry. With the right kind of mindset for career change, you'll be able to transform your life and climb up the ladder of success in no time!
In this article, I will share with you the 3 simple steps to get in the right mindset for career change, and make positive changes in your life. These are:
Start Questioning Your Negative Thoughts
Chances are that the main reason you are stuck in your career is that you allow negative thoughts to engulf your mind. "I'm not good enough/I don't deserve the salary I get/I feel like I'm not worth anything/I don't think I would be able to handle that promotion" – These are some of the thoughts that you MUST ban from your brain. And if they start haunting you at work, start questioning them. Think about all the things that you have accomplished so far. Have faith in your training and education. Beat negative thoughts with positivity!
Understand That Failure is a Part of Life
Coming across failures, be it getting rejected for a job, not being able to hit monthly targets, etc. can slow down the progress of welcoming positivity into your life. To tackle this challenge, you must understand that failure is a part of life. Even the most successful individuals have to face failure every now and then, so stop beating yourself over it.
Expect Good Things in Life
Last, but not the least, you must start expecting good things in life. Don't be discouraged by the lack of progress. Understand that the seeds of efforts you are sowing today will make a huge impact sooner or later.
By keeping the 3 things mentioned above in mind (and acting accordingly), you'd be able to transform your mindset and ultimately, your career. Best of luck!
Want to work on your career confidence? Join our free community today: https://www.facebook.com/groups/careerconfidencecommunity/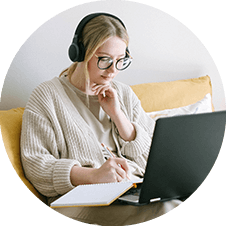 Don't wait for the right opportunity. Create it.
Book in for a free 20-minute career strategy session with one of our consultants, so you can start taking action today!