"Do the job you love, not the one you can do". That's our mantra at KLCC. We believe it wholeheartedly and we help people achieve it every day. Sounds too good to be true? It's not, but you also need to put in the work. This is some of the advice I'd love to share with you today, so that you too can find a job you look forward to!
1. Keep your dreams alive!
As children, we're encouraged to dream and imagine. As adults, not so much. What did you say you wanted to be or do when you were really young? Why do you think you felt that way and what does it say about you as a person? If money was no object, what would you do? Dare to dream!.
2. Find out what motivates you!
Knowing what your values and drivers are makes it easier to choose a career path that will feel good on the inside and keep you motivated long-term.
3. Learn new things!
It's not always about studying and attending lectures, it could also be about putting your hand up for new tasks or projects at work, learning from others, listening to podcasts or whatever else you like to do to stay on top of your game, sharpen your skills or learn new ones! Remember, passions aren't discovered – they're cultivated and developed over time. You need to explore what's out there in order to find the little golden nuggets that spark your interest, and eventually, you might actually realise you've a new passion.
4. Establish your brand!
How do you want to be seen? To get noticed you'll need to consider where you want to go and how well that aligns with how you portray yourself to others today – in person, on your resume, on your LinkedIn profile etc. Your brand is not just what you've done, it's also your potential, your passions, goals, values and much more.
5. Nurture your network!
Most vacancies are still filled through networks, so don't forget about yours. Keep your LinkedIn profile sharp, help your friends out in their careers, ask people you look up to for advice and don't be afraid to put yourself out there..
6. Engage a professional coach!
Once you've made the decision to change, please do yourself the favour of getting support from professionals. Our Career Accelerator Program is designed to do precisely that – to help you reach your career goals faster and easier, with much more confidence.
To get started with us – book a FREE CALL HERE with one of our career consultants and we'll help you map out your next steps!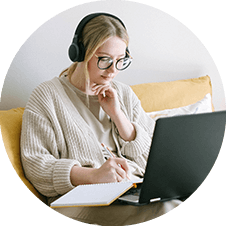 Don't wait for the right opportunity. Create it.
Book in for a free 20-minute career strategy session with one of our consultants, so you can start taking action today!