If I ask you to name at least 10 people that you know from different industries, you'd waste no time in listing the names of your uncles and your aunts. But if I ask you to name people from outside your family, you'd probably take your sweet time.
As someone smart once said, "The opposite of NETWORKING is NOT WORKING."
So, if you feel that your networking skills aren't strong enough, I suggest you take things up a notch and start getting into the radars of different professionals.
Why is Networking So Important?
According to the findings of a survey conducted in the years 2015-2016 by Lou Adler, 85% of jobs were filled with the help of networking. So, the first step towards beginning your job hunt is to let the world know that you exist. With thousands upon thousands of graduates competing for the same job as yourself, just emailing your resume and applying on online job portals doesn't cut it.
And even after you land a decent job, there might come a time where you'd want to switch it for a better one.
To stand out from the crowd, you need to build a strong network. An exchange of cards, an email, a connection on LinkedIn, etc. – anything can open the doors to golden career opportunities and increase your chances of being referred.
How to Network for Job Searching
At first, the idea of interacting with strangers to exchange information might sound a bit terrifying (especially if you are an introvert) but, at the end of the day, it pays off well and you'll eventually start to enjoy it. Here are some tips on building a strong professional network:
Make a list of the most important connections you have and stay in touch with them on a regular basis.
Make a profile on LinkedIn and start connecting with people in your industry.
(BONUS TIP: Introduce yourself with a brief introduction and ask them to introduce themselves.)
Be on the lookout for any networking events happening in your city and try to attend them.
If you have some experience and a particular skill, then make sure to keep a few business cards in your wallet which you can instantly exchange in public.
Don't be boring; give the other person a reason to give you their time.
Last but not least, be confident!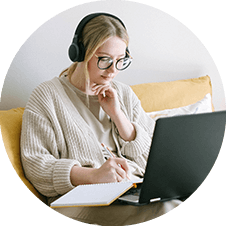 Don't wait for the right opportunity. Create it.
Book in for a free 20-minute career strategy session with one of our consultants, so you can start taking action today!