One of the things that I love about my job as a professional Career Coach is that I get to work with people who understand the value of a powerful conversation. A common trait among our clients is that they feel their mind is clouded, muddled, or as my last client said today "a big pile of spaghetti"! A cluttered mind has the power to hold you back in both short-term decisions and long-term success. This is where coaching really helps – and here is why:
1. Coaching is future-focused

Rather than overanalysing your situation, why your life and career looks the way it does and where your mind blocks might originate from, a coach will always take the client's current starting point as neutral ground and start from there. Some people might want to complement coaching with therapy or counselling services but for people who want to focus on the future and how to make it better, coaching is highly effective!
2. Coaching is personal, yet objective
Just like a sports coach can successfully coach lots of different people without actually knowing too much about them, a skilled career coach can help people from all walks of life as well, even in just one session. While my service is extremely customised to each individual, the power lies in me being able to work with each person as a blank canvas. We all have the ability to be whatever and whoever we want. What's important is being clear on our strengths, abilities and motivators, identifying our goals and breaking them down into a realistic plan to bridge the gap.
3. Coaching is solution-oriented
Focusing too much on a problem itself is mentally debilitating and can severely affect your ability to take control of the situation. Focusing on the solution, however, is one of your most important keys to success, in both your life and career. A coach will help you re-frame the problem into something much more productive and put you into a positive mindset, which will in turn help change your actions and habits.
4. Coaching allows you to have your own revelations
What I find most rewarding about what I do is seeing people have life-changing AHA moments every day! It must be experienced to be fully understood, but I only act as a facilitator when I help someone gain perfect clarity on their ideal industry and role, what they're truly passionate about and what they need to do to get to where they want to be. My job is not to advise, but to ask curious and challenging questions, hold space and reflect back in a way that enables my clients to find the answers they need to move forward.
5. Coaching will help you see things you can't when you look in the mirror
If you knew what you needed to do to reach your goals, why are you not feeling like you're making progress? It's probably because you "can't see the forest for the trees" and you need an outside perspective. Independence isn't always a virtue, most of us need to get better at asking for help when we're feeling stuck and I encourage you to start today. Rest assured that it's within a career coach's expertise to pull out your strengths and abilities and allow you to look at yourself with brand new eyes. Or as a client yesterday said: "Our chat yesterday certainly did restore some faith in the skills I have to offer (particularly my soft skills), and that you feel they are and would be very valuable and sought after in the right industry, and they are not just words on a resume."
So, if you're wanting to remove limiting beliefs and gain the confidence to land a career you love, if you want to "find your passion" and build a clear success roadmap, if you want to get really clear on the value you bring and understand how to sell yourself, or if you already know what you want but want to understand what's holding you back and how to get past them (and if there are in fact shortcuts to the destination!) – get in touch! We help people every day get closer to their dreams, so they can do a job they love, not just one they can do.
Book a free 20 min call with one of our career consultants to get started!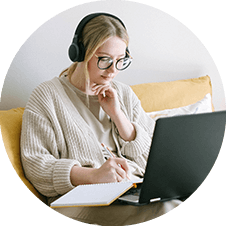 Don't wait for the right opportunity. Create it.
Book in for a free 20-minute career strategy session with one of our consultants, so you can start taking action today!