"If the plan doesn't work, change the plan, but never the goal."
– Anonymous
You are in your last year of college. You are super excited to finally graduate and step foot in the professional world. A vast range of opportunities for you to kick-start your career awaits you – but will you choose the right one? A person's career is the very reflection of their professional decisions and all that they've struggled for. So, it's highly crucial that you get it right before it's too late and you are left with nothing but regrets. Every college student should be extremely careful when planning their career goals and I'm about to tell you exactly why.
It Will Defines Your Very Future.
Choosing the right career path will impact how you live out the rest of your days. Will you lead a happy life? Are you going to be satisfied with your decisions 20, 30 years from now? Will you be financially stable? One misstep can completely change the way your life will look in the future.
You, Will, Be Satisfied with Your Job.
Intrinsic rewards are important to maintain satisfaction levels. You could have a job that pays well but if what you do isn't aligned with your ambitions and career goals, you won't be happy. So, select a career path that will help you accomplish your long-term goals and reach your ambitions.
Success Will Come to You.
A majority of people spend their entire lives running after professional success. But, if you are truly passionate about what you do and have a clear goal set in mind, not even the biggest mountains can stand in your way. In fact, success will eventually fall in your lap!
How Do I Choose the Right Career?
You have infinite oceans of knowledge in the palms of your hands – make good use of it. Conduct a thorough research on the internet about different career paths and how you can work towards them. Approach your seniors or professionals within different industries and get counselled by them. An even better option is to get professional career counselling and coaching from me.
Book a session now: www.katelangford.com.au/book-appointment/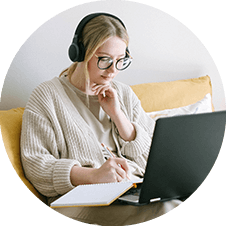 Don't wait for the right opportunity. Create it.
Book in for a free 20-minute career strategy session with one of our consultants, so you can start taking action today!